Top 10 Big Events for 2022 in Indiana's Cool North
Posted on March 31, 2022 by Dina Miller
Indiana's Cool North has some big events; you know the ones you look forward to every year, and don't want to miss.  To help you plan ahead, and get them on your calendar, we've made a list of our Top 10 biggest events.  Everything from the county fairs to the biggest festivals and those weekly markets that draw huge crowds.
The River Lights - Artwork that Transforms the River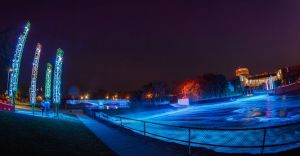 If light, water, and unique art forms bring out the photographer in you, here's a must see – the South Bend River Lights, an artwork that transforms the St. Joseph River. Color splashes from light sculptures on either side of the river. They amplify a majestic cascade of water and the "Keeper of the Fire" statue. The lights turn on each day one-half hour before sunset and stay on all night.