Top 10 Things to Do That are Ready When You Are
Posted on June 9, 2020 by Dina Miller
Our Top 15 lists showcase the many unique and eclectic things to do in Indiana's Cool North.  However, in the current COVID-19 world, not everything is open or the safest choice for your situation.  We have searched through our Top 15 lists and pulled together ten things to do that may be right for now or in the very near future.  Most are outdoor, some completely on your own in your car, and others are for smaller groups in safer settings that may be open now or will be soon.  We encourage you to follow current guidelines for face masks, hand washing and social distancing.  We know you are ready to get out and explore, and we have safe, close, and affordable options in northern Indiana.  The original tried and true Top 15 lists will remain for when the time is right!  Things change rapidly, so be sure to check with the individual websites or business before finalizing your plans.
Lake Charters Abound in Michigan City - the "Coho Capital of the World"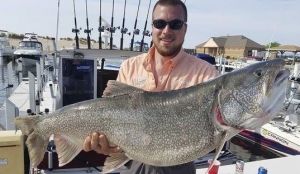 There's a reason Michigan City is known as the "Coho Capital of the World." Every angler on earth dreams of reeling in a prize catch, and the waters of Lake Michigan offer some of the best Coho and Chinook salmon fishing around. Not to mention steelhead, lake trout, brown trout, yellow perch and smallmouth bass.
Best of all, it's easy to get out on the water for the fishing adventure of a lifetime with one of Michigan City's professional charter boat captains. These experienced pros provide everything you need, from the boat, bait and licenses to lures and poles. The charters cater to parties of friends, families, plus corporate and other groups.
Some options for scheduling your charter expedition: