Top 10 Things to Do That are Ready When You Are
Posted on June 9, 2020 by Dina Miller
Our Top 15 lists showcase the many unique and eclectic things to do in Indiana's Cool North.  However, in the current COVID-19 world, not everything is open or the safest choice for your situation.  We have searched through our Top 15 lists and pulled together ten things to do that may be right for now or in the very near future.  Most are outdoor, some completely on your own in your car, and others are for smaller groups in safer settings that may be open now or will be soon.  We encourage you to follow current guidelines for face masks, hand washing and social distancing.  We know you are ready to get out and explore, and we have safe, close, and affordable options in northern Indiana.  The original tried and true Top 15 lists will remain for when the time is right!  Things change rapidly, so be sure to check with the individual websites or business before finalizing your plans.
The Gateway Mile – Botanic Gardens and the Riverwalk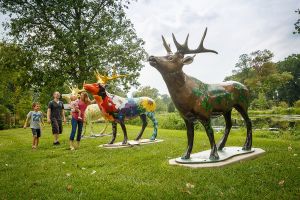 It's a mile you won't want to miss and a perfect way to discover the trendy urban vibe that continues to emerge in downtown Elkhart. The designated mile runs along South Main between Wellfield Botanic Gardens, a 36-acre oasis filled with lush flowers, plantings, sculpture and serene ponds, and historic St. Vincent de Paul Catholic Church. The area is set against a backdrop of the city's popular RiverWalk, which flanks the St. Joseph and Elkhart Rivers and passes trendy cafes, coffee houses and brew pubs along the way, which may be open for dine-in or carry-out.
Take note of the places you will want to visit when the time is right, including the elegantly restored Lerner Theatre, which opened as a vaudeville house in 1924 and is listed on the National Register of Historic Places. Or the opulent 1910 Ruthmere mansion, filled with period furniture and fine art and surrounded by beautifully tended gardens. Stop by parks along the Mile as a way to relax or enjoy some outdoor fun.