Top 15 Local Favorites in Northern Indiana
Posted on April 17, 2017 by Indiana's Cool North
History, festivals, and exquisite dining collide in Indiana's Cool North. We asked locals to list their favorite attractions, activities, and events so you can get the most authentic experience possible on your visit to Northern Indiana. Whether you take in one or go for the full 15, you'll learn just what makes our corner of the country so special.
Ride the Biking Trails - Explore Indiana's Cool North at a Slower Pace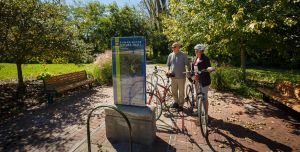 There's nothing quite like that freedom you feel pedaling new terrain. And the summer of 2020 is a good time to explore those trails! Wind in your face, sun on your back, and your bike taking you on adventures just down the road. With the abundance of awesome bike trails in Indiana's Cool North, it's no wonder so many visitors can't resist the lure of those pathways that lead to shady forests, mysterious marshlands, friendly towns and Amish communities. You'll find many of the trails are open to a host of other activities, including hiking, walking, in-line skating, and cross-country skiing. Several are also handicap-accessible.