Top 15 Local Favorites in Northern Indiana
Posted on April 17, 2017 by Indiana's Cool North
History, festivals, and exquisite dining collide in Indiana's Cool North. We asked locals to list their favorite attractions, activities, and events so you can get the most authentic experience possible on your visit to Northern Indiana. Whether you take in one or go for the full 15, you'll learn just what makes our corner of the country so special.
The Inn at Amish Acres – Old World Charm in Indiana's Cool North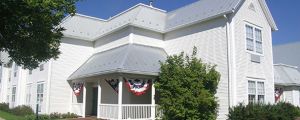 Get a taste for the Amish life when you stay at the quaint Inn at Amish Acres. Choose from 64 guest rooms that boast modern-day amenities coupled with old world charm. A complimentary breakfast is served each morning in the Geranium Room, and afterwards you can enjoy games in the lobby, or get lost between the pages of a book from the inn's library.
Best of all, the inn is a short stroll to the attractions at Amish Acres. Belly up to the table under the hand-hewn timbers at the Restaurant Barn, and dig into famously hearty Amish cuisine, served up family-style. Nearby shops sell everything from scrumptious pies and pastries, to Amish-made quilts and baskets. Don't miss the renowned performances at the Round Barn Theatre, where over 100 Broadway musicals have been performed for captive audiences for the past 16 years.