Top 15 Outstanding Things to Do
Posted on January 17, 2023 by Indiana's Cool North
Want to make the most of your precious vacation time when you travel to Indiana's Cool North? Check out our top 15 things to do that are anything but ordinary. Of course this is just a sampling of all the awesome attractions and activities our region has to offer. What will you discover when you visit us?
Das Dutchman Essenhaus – Eat hearty. Leave happy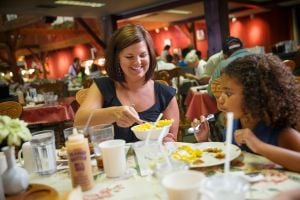 Genuine recipes passed down for generations create an authentic Amish experience and Das Dutchman Essenhaus in Middlebury. Dine on soul-satisfying fare in Indiana's largest restaurant with over 1,100 seats! Choose from three types of dining: menu, buffet, and family-style. Don't miss the bakery just steps away, where you can take home fresh bread, cookies, or one of 31 varieties of pie.
The lunch and dinner menu features everything from chicken and noodles to lightly breaded pork tenderloin—an Indiana specialty. Choose from entrees such as baked steak, roasted chicken and smoked ham for family-style dinners, plus a variety of side dishes like mashed potatoes and gravy, corn, home-baked bread with apple butter and, of course, a generous wedge of pie. Buffet dining is available for breakfast, lunch and dinner every day (closed Sunday).  Family-style is available on Friday and Saturday afternoon and evening.