The Top 5 Things to Do in Michigan City LaPorte
Posted on February 14, 2023 by Indiana's Cool North
When you visit Michigan City LaPorte, you'll quickly discover fun for all ages. Whether you're planning a family vacation or a peaceful getaway for two, Michigan City LaPorte offers visitors the chance to explore nature, enjoy world-class entertainment, and even partake in a little retail therapy! Before you hit the road for your trip, make sure your visit is one you'll never forget by learning more about the top five things to do in Michigan City LaPorte.
Embark On an Outdoor Adventure
Michigan City serves as an unofficial gateway to the Indiana Dunes National Park, and the community's Washington Park features a primo beach and shady grounds.  The lighthouse and pier at Washington Park is one of the most instagrammable places in the area.
Animal lovers and nature enthusiasts will find plenty to love about LaPorte County. The Washington Park Zoo has been protecting wildlife and educating the public for over 90 years. When you visit the zoo—located on 15 acres near Lake Michigan—you'll have the pleasure of seeing over 90 different species of animals, including bald eagles, grizzly bears, and otters, just to name a few.
LaPorte County is also home to the Pinhook Bog, a very special kind of wetland located within the Indiana Dunes National Park. The Pinhook Bog, which is open by reservation for ranger-guided tours, is covered by 145 acres of a floating peat mat. This fragile mat, combined with rare flora and fauna, makes the bog a must-visit for nature lovers. While you're here, you'll even have a chance to walk on a mat of floating peat and vegetation, which feels almost like you're walking on a waterbed.
Learn Something New in Diverse Museums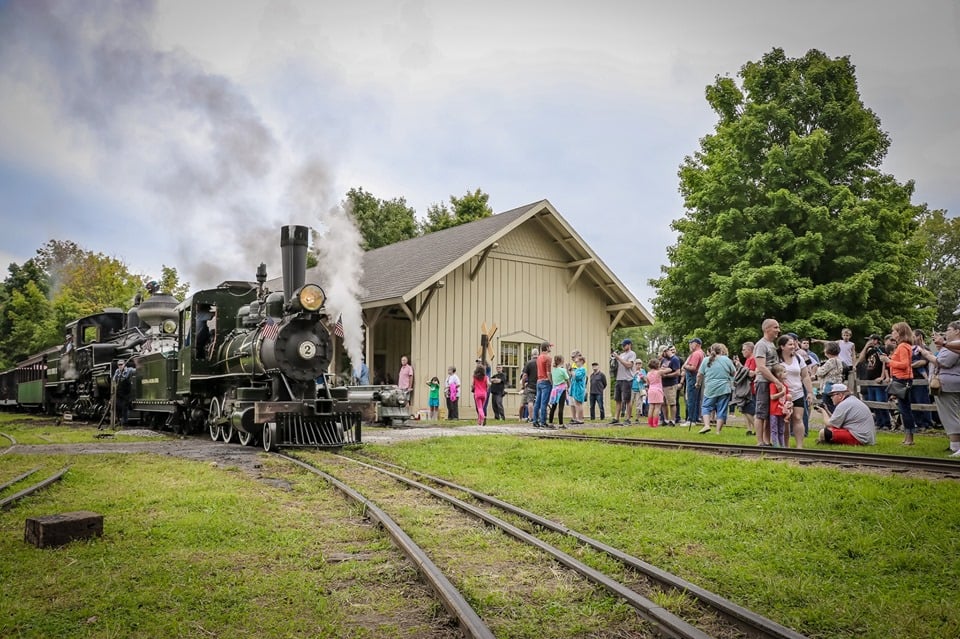 In Indiana's Cool North, we love our museums. In fact, we've already written an entire post dedicated to our coolest museums. If you've read that post, there's no doubt you remember the Hesston Steam Museum, where guests can watch steam locomotives in action, as well as enjoy a one-eighth scale miniature railroad that is a hit with armchair conductors young and old. And, depending on the time of year, visitors will have a chance to hop aboard the Halloween Ghost Train, the Candy Cane Express, and more specially themed locomotive rides.
For a closer look at the history of the region, be sure to visit the LaPorte County Historical Society Museum. Here, you'll find more than 80,000 unique items on display, including the W.A. Jones Antique Firearms Collection, and the Kesling Automobile Collection. Michigan City LaPorte is also home to the Old Lighthouse Museum, where you can visit an original 1858 light station structure, as well as learn more about the Great Lakes, disastrous shipwrecks, and more.
Shop, Shop 'til You Drop

Nothing beats finding that perfect outfit or item when you're away on vacation, and you'll have plenty of opportunities to shop while you're visiting Michigan City LaPorte. Start at the Lighthouse Place Premium Outlets, where the best brand names are available at unbelievable prices. From Adidas and Aerie to Zales and Zumiez (and everything in between) you'll love the shopping—and the savings—at Lighthouse Place Premium Outlets.
If boutique shopping is your thing, we have it on good recommendation that downtown Michigan City could be your place!  You may find just the dress for your evening out!
Of course, if you'd like a souvenir that celebrates your time with us, be sure to visit the Michigan City LaPorte Gift Shop. This is the place to pick up a piece of art created by local artisans—including paintings, jewelry, sculptures, photographs, and even painted furniture. If you can't stay with us, at least take something home to remember us by!
Stroll Through Beautiful Art Galleries

Nothing is more exciting than the power of imagination, which is why Michigan City LaPorte cultivates such a strong arts scene. During your visit, be sure to check out art galleries highlighting local and national talent, and even try your hand at creating your own masterpiece. Art lovers must include the Lubeznik Center for the Arts on their list of places to visit. Northern Indiana's premier multidisciplinary contemporary art space, the LCA features five gallery spaces that are refreshed quarterly with new pieces for you to visit,, a gift shop offering an assortment of souvenirs, and a performance venue where you can see everything from musicians to slam poets.
If you'd prefer to visit a more intimate gallery, consider stopping by the Thaddeus C. Gallery. Located in historic downtown LaPorte, the Thaddeus C. Gallery houses a curated collection of impressive American and international fine art by established and emerging artists alike. Regularly regarded as one of the top fine art galleries in Northern Indiana, the Thaddeus C. Gallery a perfect destination for art lovers.
Have a Fantastic Night on the Town

The only thing better than a day exploring Michigan City LaPorte is a night out! If you're feeling lucky, visit the Blue Chip Casino Hotel & Spa. With 40 table games, live poker tables, and more than 1,700 slot machines, Blue Chip Casino Hotel & Spa is the ultimate place to try your luck. Best of all, since it's more than just games of chance, the Blue Chip Casino Hotel & Spa is the ideal destination for a weekend getaway in Michigan City LaPorte.
In the mood for a more relaxed evening? Be sure to spend some time at the Shady Creek Winery. With a warm atmosphere and a great selection of award-winning wines, Shady Creek is a spot where you can enjoy a glass—or a bottle—with your friends and family. The Shady Creek Winery is only one of many wineries located in the region; you can learn about others over on our winery tour of Northern Indiana.
We hope these tips help you plan a memorable vacation in Michigan City LaPorte. To learn more about all the exciting things Michigan City LaPorte has to offer, click here.