A Taste of Amish Life at Home
Posted on October 26, 2017 by Indiana's Cool North
In Amish culture, recipes have been passed down from generation to generation, and feature many warming and nourishing classics, with lots of grains and meats incorporated into many dishes. From breakfast, through lunch and dinner, to dessert, you'll find a wealth of hearty options that will leave you feeling anything but hungry.
Looking to try some Amish cuisine at home? We're sharing a few of our favorite recipes from the Amish regions in Indiana's Cool North. Don't feel like cooking? Not a problem, come pay us a visit and taste these delicious dishes for yourself.
Amish Mush and Apple Butter
While the name itself might not sound that appetizing, cornmeal mush is a delicious Amish favorite. This gluten-free side graces the breakfast plates of many homes in Northern Indiana. This dish, made with minimal ingredients, is perfect for a weekend brunch. If you'd prefer to have it on a week day, you can prep the first part of the recipe the night before.
Top it with a little homemade apple butter for a real treat. Apple butter is a thicker, richer, caramelized version of apple sauce. We've included an easy version of the recipe that you can make in the slow cooker.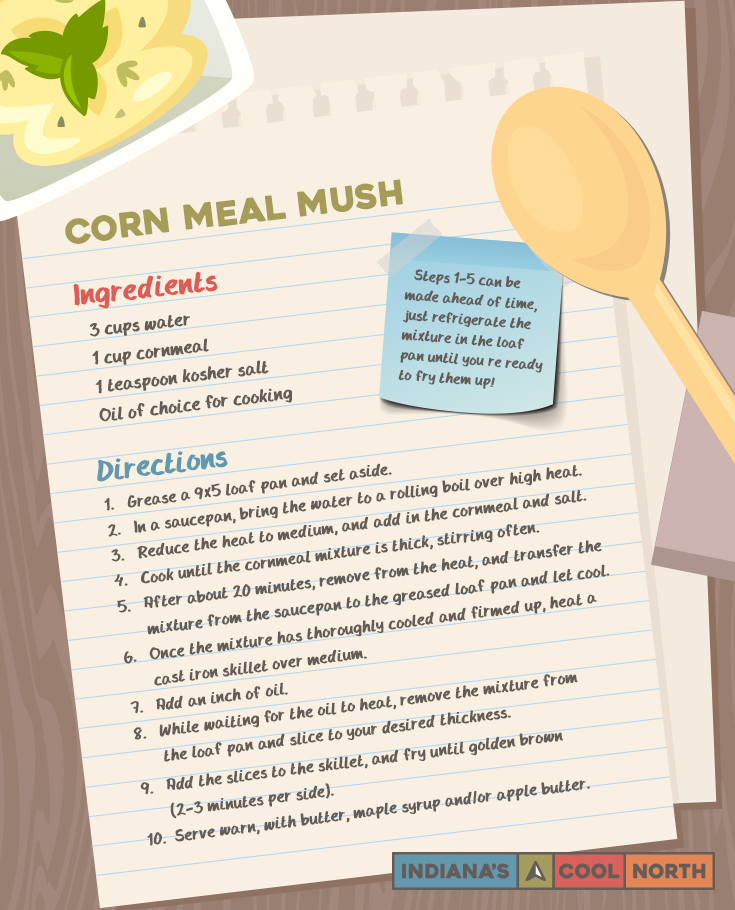 When visiting Indiana's Cool North, you can try mush, apple butter and other Amish favorites at the family-friendly Das Dutchman Essenhaus, in Middlebury, Indiana. In addition to breakfast, Das Dutchman Essenhaus serves delicious buffet lunches and family-style dinners, perfect for celebratory meals.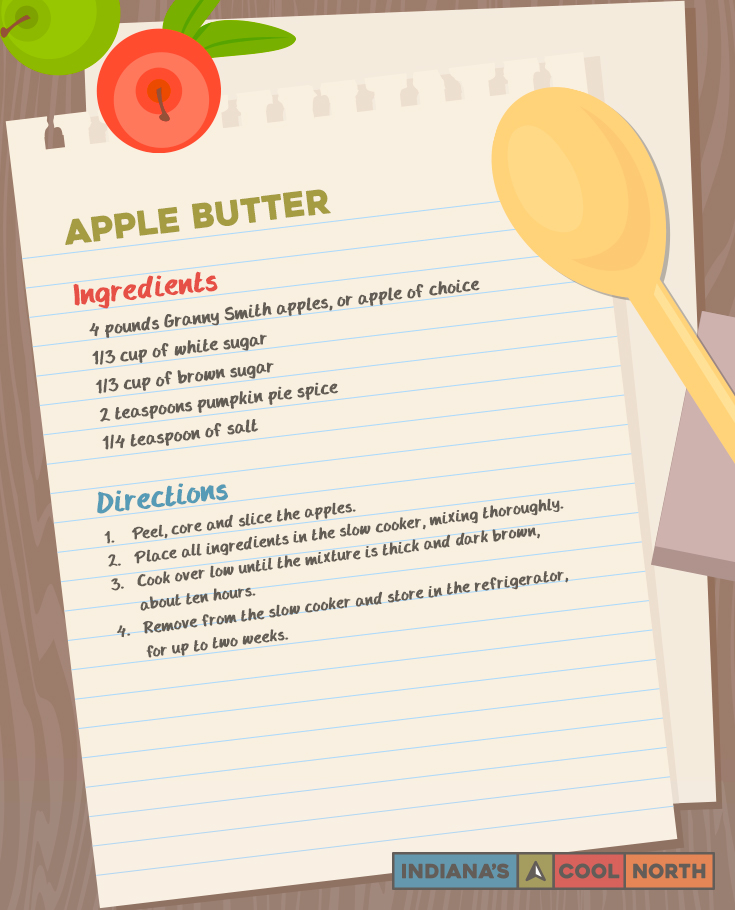 Amish Beef and Egg Noodles
Craving a little comfort food? Dishes don't get much more comforting than beef and noodles, often served over mashed potatoes. This meal is a staple of Amish cuisine, It's at its best when made with Amish egg noodles, either made at home, or purchased from one of the many farmer's markets and shops in Indiana's Cool North. However, regular egg noodles work too!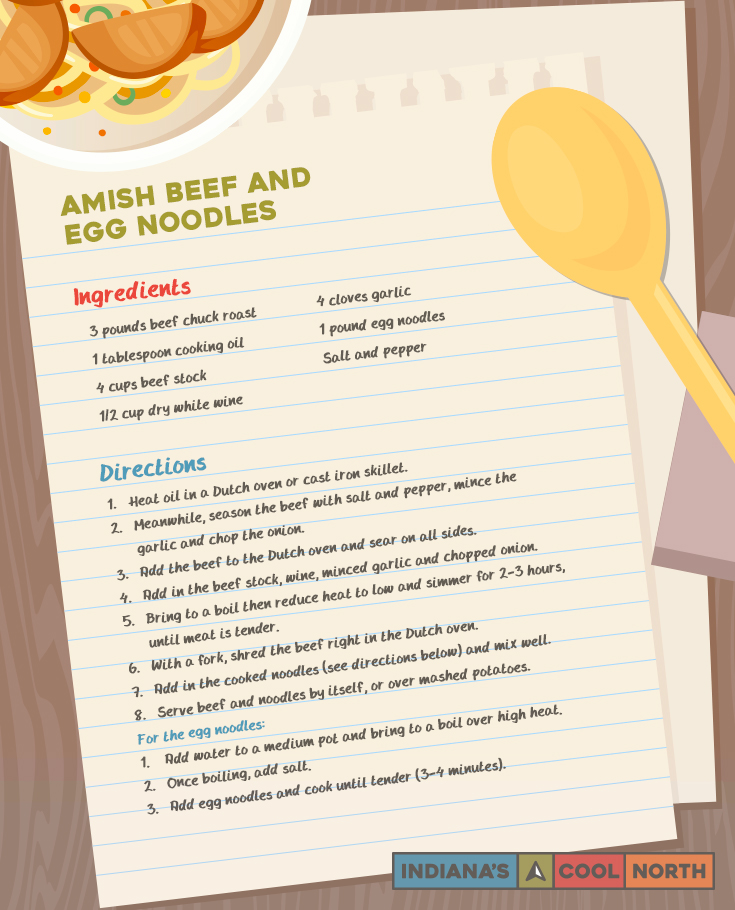 Sample beef and noodles at Blue Gate Restaurant in Shipshewana/LaGrange County. Blue Gate serves traditional Amish meals family-style, making it a great option for when you want to get together with a large group of family or friends. It's also open most holidays, for those times when you want to celebrate but don't feel like cooking a giant meal yourself.
Shoofly Pie
Satisfy your dessert cravings with shoofly pie, a delicious Amish treat. Made with molasses, shoofly pie is sticky and sweet, with crumb cake-style topping. Best served warm, with a dollop of sweetened whipped cream, this decadent dessert is the perfect way to cap off a full Amish meal.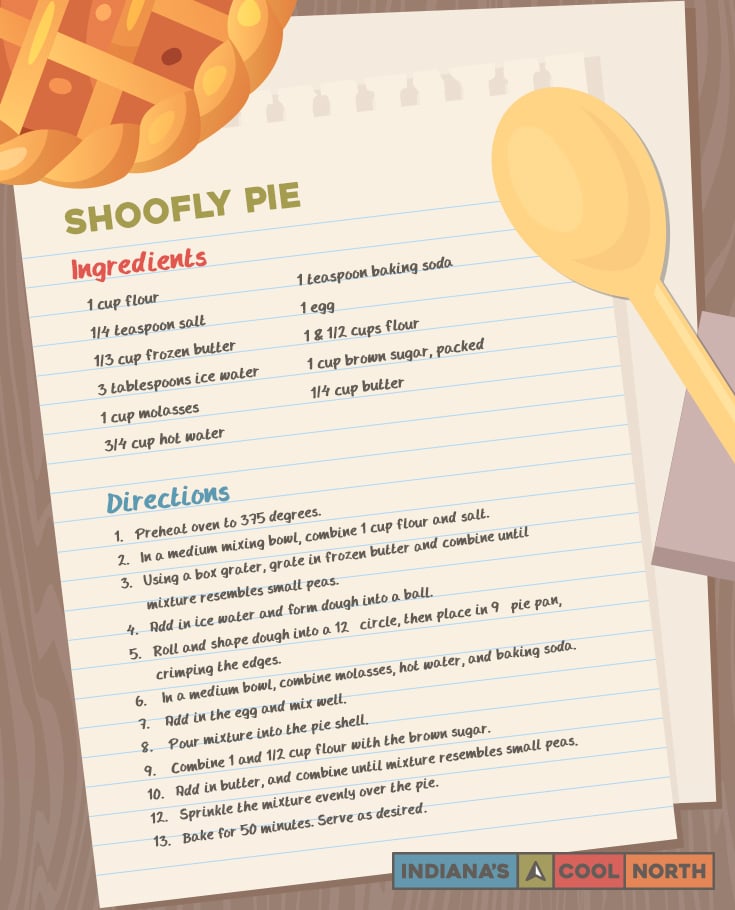 Even if you make your own, the shoofly pie formerly made at Amish Acres in Nappanee, Elkhart County, was totally worth trying. Their version was named the Best by the Chicago Tribune. The Restaurant Barn is now known as The Barns FarmTable, as part of The Barns at Nappanee.
Have these dishes inspired you to explore more of Amish culture? Explore these Amish Adventure Weekend Escapes in Indiana's Cool North.