25 Outdoor Adventures in Northern Indiana
Posted on March 13, 2023 by Dina Miller
Summertime… and the livin' is all outdoors! Families, couples, groups of friends, take note:  Indiana's Cool North is your place to be for a quick getaway or extended vacation. Think affordable, easy to get to, and, most of all, FUN! Want to dive into a Great Lake? Conquer a giant sand dune? Paddle a lazy river, pedal serene countryside, drop a fishing line, or tee off on a classy course? Your adventure awaits!
Climb High, Dive Deep – Lake Michigan
Northern Indiana meets Lake Michigan in a sun-kissed landscape of undulating sand dunes and glorious blue waters, both seeming to go on forever.  Michigan City serves as the unofficial gateway to The Indiana Dunes National Park, which stretches across a two-county region. The Indiana Dunes State Park in Porter is a great place to get advice on a host of adventures.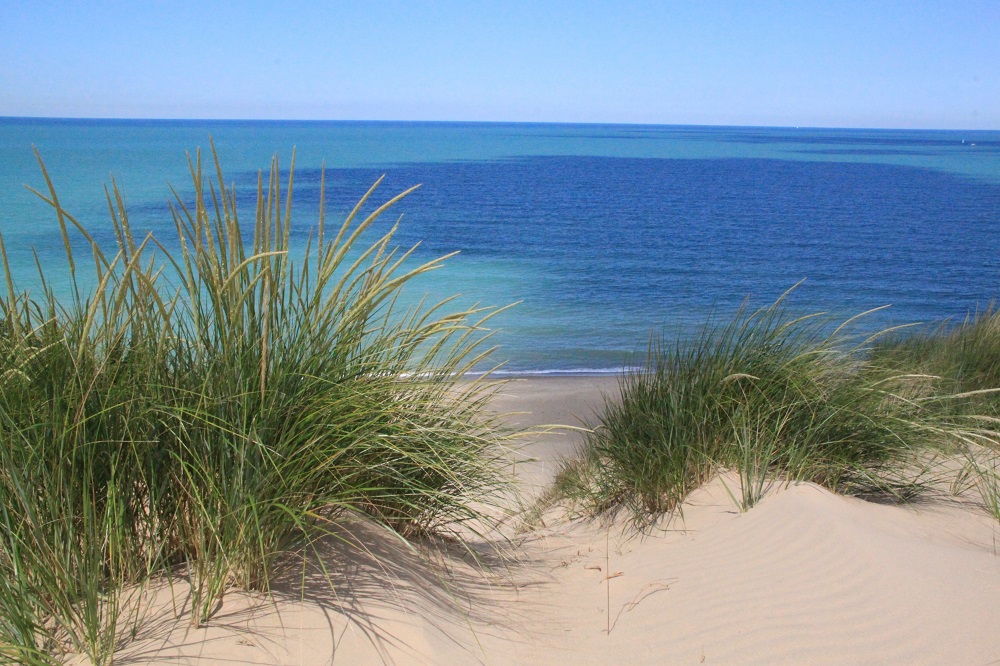 The Dunes
Up for a test of your outdoor strength? Take "The 3 Dune Challenge," a tough trek running or hiking a 1.5-mile course on the State Park's three tallest dunes. Most climbers find the steep, sandy slopes take them backwards as often as forward. But there are plenty of gentle hiking options too among the dunes, with 16 miles of hiking trails in the State Park alone.  The Diana of the Dunes Dare is the newest challenge in the National Park.
The Beaches
Washington Park in Michigan City reigns as the Grand Dame of the shore. You can easily spend a whole day swimming, sunning and playing on the expansive beach, picnicking in the shady park, seeing Indiana's only working lighthouse, and visiting all those wonderful creatures right next door at the Washington Park Zoo. To the west, dog-friendly Central Beach offers a quieter experience, and Mt. Baldy Beach is backed by the National Park's largest moving dune. There are several more public beaches in the two-county area.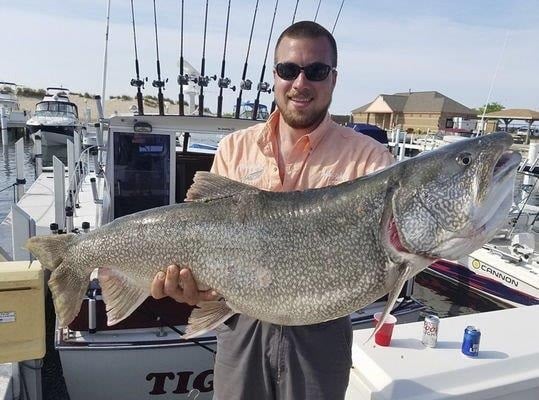 Out to Sea
Every angler on earth dreams of reeling in a prize catch, and the waters of Lake Michigan offer some of the best Coho and Chinook salmon fishing around. There's a reason Michigan City is known as the "Coho Capital of the World."  It's easy to get out on the water for the fishing adventure of a lifetime with one of Michigan City's professional charter boat captains.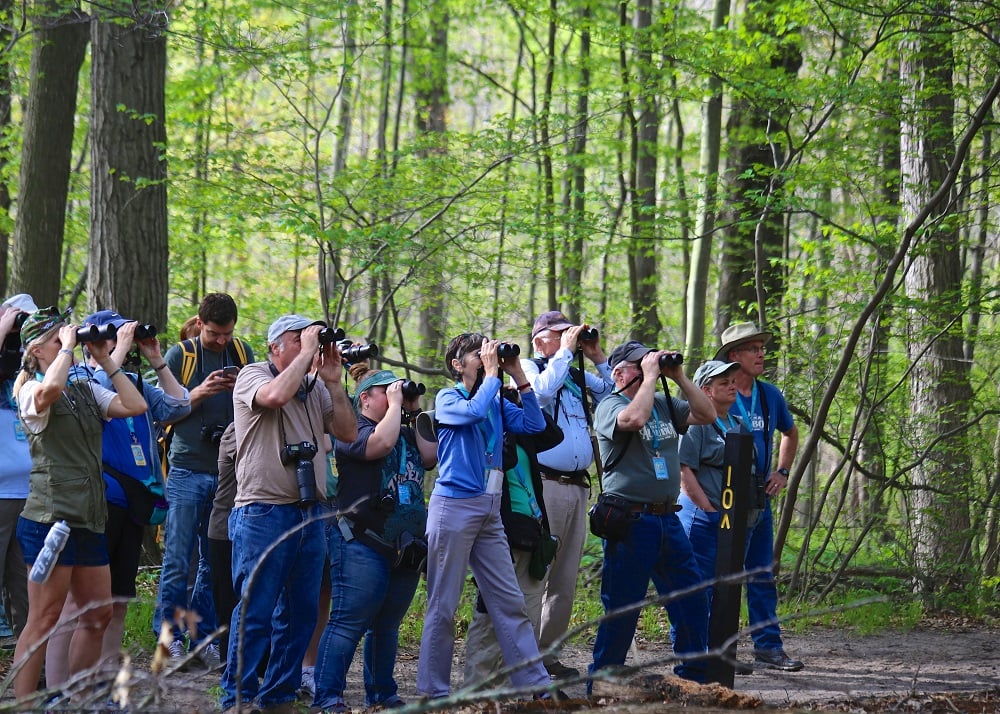 Into the Land
There's more to the Indiana Dunes than lakeshore and sand. Get some maps at the State Park in Porter and you're off on trails where you'll discover peaceful woodlands, rivers and wetlands, all rich with birds and wildlife. In fact, birdwatchers in the know flock to the area, a haven for numerous species of birds. Head off on your own or take a ranger-led hike. Explore the diversity along the South Shore. Embark on a unique adventure hiking towering dunes, meandering through forests, and cycling miles of trails.
Happy (Bike) Trails to You
Have bikes – will travel! That's certainly the rule for so many families and groups these days who wouldn't dream of leaving home without the bike racks filled. A host of trails, ranging from easy to challenging, make Northern Indiana a quick escape for a biking adventure. And the scenery is breathtaking to boot! Here are a couple of intriguing options that cyclists love.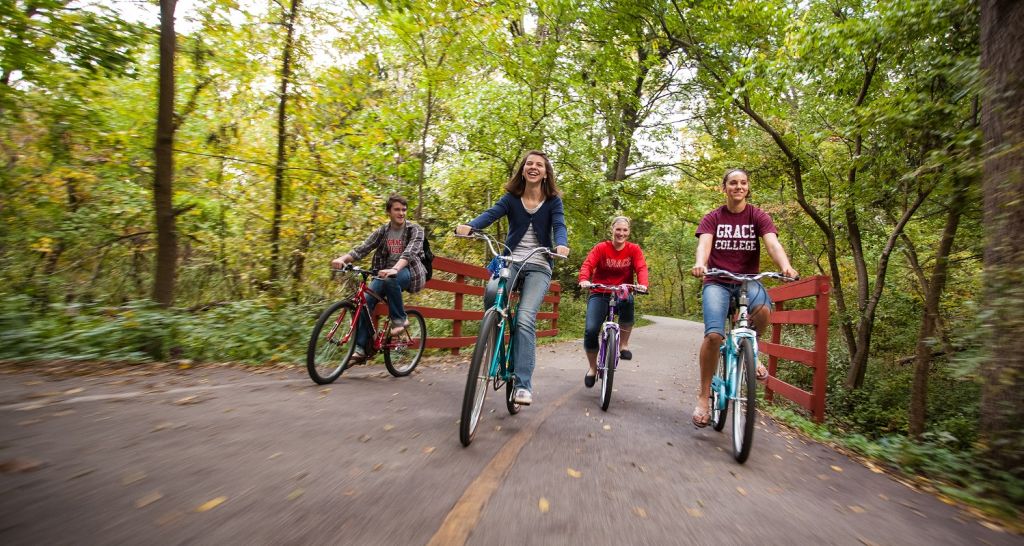 Pumpkinvine Nature Trail
Take a lovely green countryside, add an up-close look at Amish life, top it off with a bit of railroad history and you have the makings of a unique adventure on this easy-going 17-mile route. It was a popular passenger and mail service train route in the early 1900s, nicknamed "pumpkin vine" because of its numerous curves and turns. Today, bicyclists delight in that characteristic of the Pumpkinvine Nature Trail that begins in Goshen and travels through Middlebury on to Shipshewana, all in the area of  Indiana's largest Amish community.
Along the way, you'll see the signature white Amish farmsteads, where fields are tended with horse-drawn equipment, and hand-washed clothing and quilts flap on clotheslines. Signage reveals the railroad's history as you traverse a primarily paved pathway suitable for all ages. The trail also connects with other trails that lead to Elkhart.
Bike the Indiana Dunes
Biking enthusiasts will find endless opportunities for outdoor adventure in Indiana Dunes. Whether you are a leisure rider, mountain biker, road warrior, or BMX enthusiast, there is a trail for you.  With over 50 miles of scenic trails, cyclists can explore the diverse landscapes of this stunning region. From the sandy beaches along Lake Michigan to the rolling dunes and lush forests, every ride offers a unique experience. Whether you're a beginner or a seasoned rider, Indiana Dunes provides a picturesque backdrop for an unforgettable biking journey.
Down a Lazy River
Discover the hidden gem of Northern Indiana's Amish community, where tranquil rivers await your canoeing and kayaking adventures. Outfitters in this two-county area provide all the necessary equipment and transport to launch points. Don't forget to explore the Indiana Dunes area, which also offers abundant paddling opportunities. And if you're looking for even more adventure, don't miss the Water Trails along the south shore.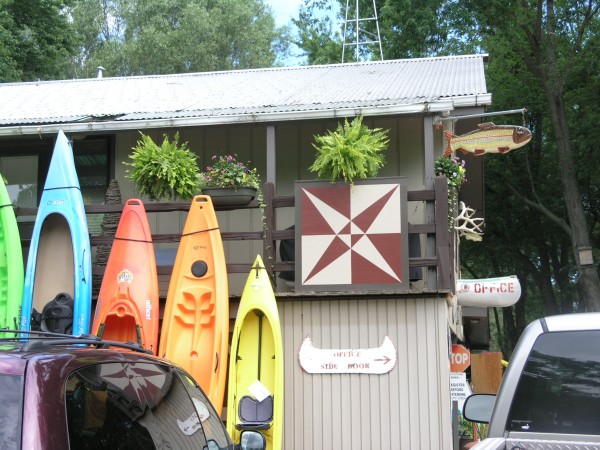 Elkhart River
If you have your own canoe or kayak, paddlers recommend the Elkhart River between Elkhart and Goshen. The stream alternates between rural tranquility and a more urban vibe. You may see lots of wildlife, such as deer, heron, duck and geese along some stretches, and people who may shout a friendly hello along others. You can launch from Rogers, Oxbow or Studebaker parks.
St. Joseph River
Easy paddles down the flowing waters of this river are even more fun if you bring your cooler and beach on the the sand bars and islands along the way for lunch, a little sunbathing and maybe a cooling dip. The river runs through mainly wilderness terrain, though houses dot the banks here and there.  Fluid Fun or Bristol Canoe and Kayak in Bristol will get you set up for weekend and holiday trips that range from 2½ to 4 hours.
Paddle the Indiana Dunes
Get to know the Indiana Dunes area by paddling along the Little Calumet and Kankakee Rivers, or the lake chains and lake parklands.  There's no shortage of lakes, creeks, and waterways to explore with your own watercraft, or rent a boat.
Water Trails
Along the South Shore there are various water trails for kayaking and canoeing. These trails offer scenic routes through rivers, lakes, and marshes, allowing visitors to explore the natural beauty of the South Shore region. With options for all skill levels, these water trails offer a fantastic opportunity for outdoor enthusiasts to enjoy paddling adventures.
Tee Time
If you can't consider vacation or even a weekend getaway without the golf clubs in the trunk, load them up and be prepared for some tremendous tee-offs. Don't miss these outstanding options: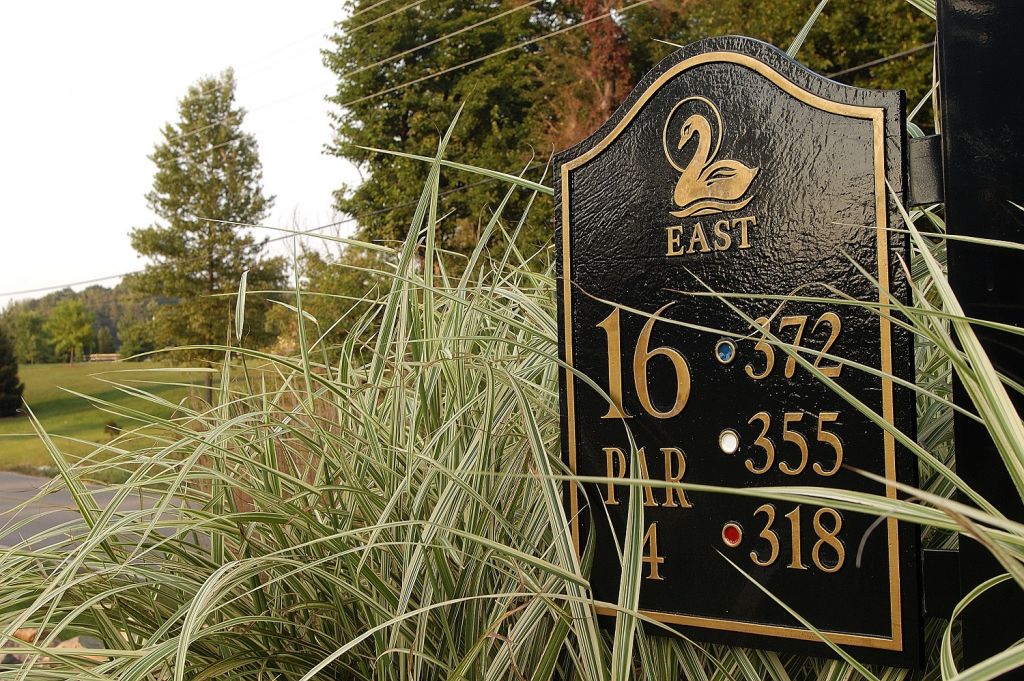 South Shore Region
Experience top-tier golf courses in the South Shore region. Challenge yourself on the green at renowned locations, enjoy family time at a par three course, or plan a weekend getaway combining golf with a relaxing stay.
Plymouth
Whether you're a seasoned player or still in the learning mode, The Golf Club at Swan Lake provides a dream golfer's getaway. The home of the Golf Academy, the resort features two 18-hole championship courses. The Silver Course provides a shorter, more strategic layout for all levels of play, while the Black Course provides a championship experience. PGA pros are available to help you improve your game. And it all comes with a full-service resort where the non-golfers in your party can find plenty to do.
Love Those Lakes
Morning sounds signal another perfect day at the lake… waves lap the shore, motors purr as fishermen head out, and bare feet slap the dock before that iconic splash in the water. Northern Indiana abounds with glistening inland waters and plenty of beaches, marinas and resorts large and small. Your lake escape is just around the corner.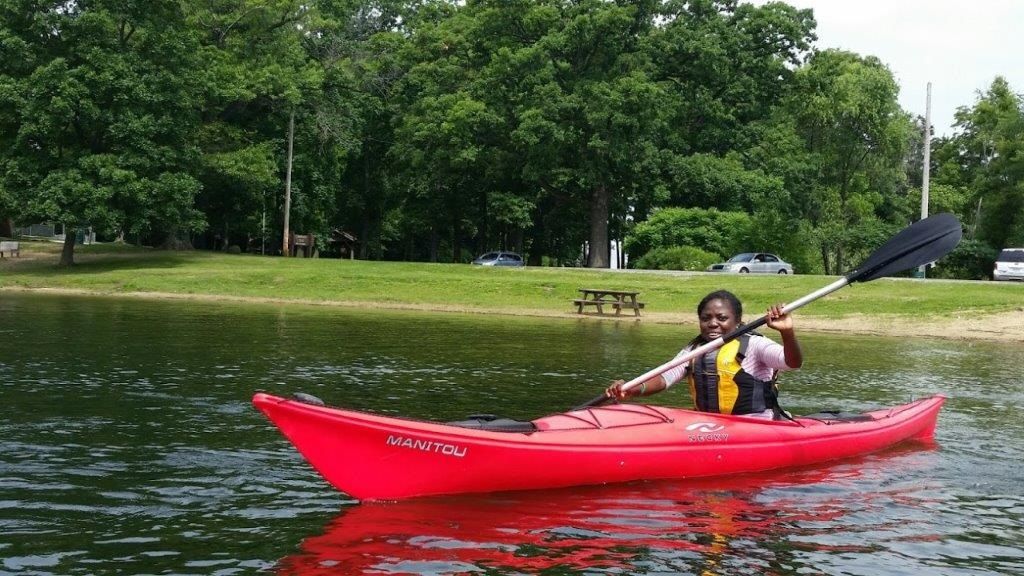 The LaPorte Lakes 
Enjoy the best of beachside relaxation or thrilling water sports at Pine and Stone lakes in LaPorte. With their pristine waters and exceptional public beaches, you can indulge in sunbathing or showcase your skills on a wakeboard. Dive into the waves, skim the water on skis, or reel in bass and crappie while fishing. Clear Lake is also a popular fishing spot. Pine Lake's marinas provide rentals for pontoons, fishing boats, ski boards, wakeboards, and tubes of all sizes. They even offer tow packages for tubers. Pine Lake offers grills and picnic tables for a complete outdoor experience, while Stone Lake features concessions, playgrounds, and sand volleyball to enhance your day of fun.
Lake Maxinkuckee
Indiana's second largest inland lake, affectionately known as "Lake Max," delights vacationers with every kind of water activity in the small resort town of Culver, often called "The Cape Cod of the Midwest." Visitors enjoy swimming, waterskiing, boating, fishing and more adventurous endeavors like parasailing, wakeboarding and wake surfing. There's a pristine public beach, and marinas rent kayaks, pontoons, fishing boats and more. Resorts and individual cottage rentals are available.
A Floating Obstacle Course
Discover the hidden gem of Whihala Beach, boasting a stunning white sandy beach on Lake Michigan, offering a full day of family fun!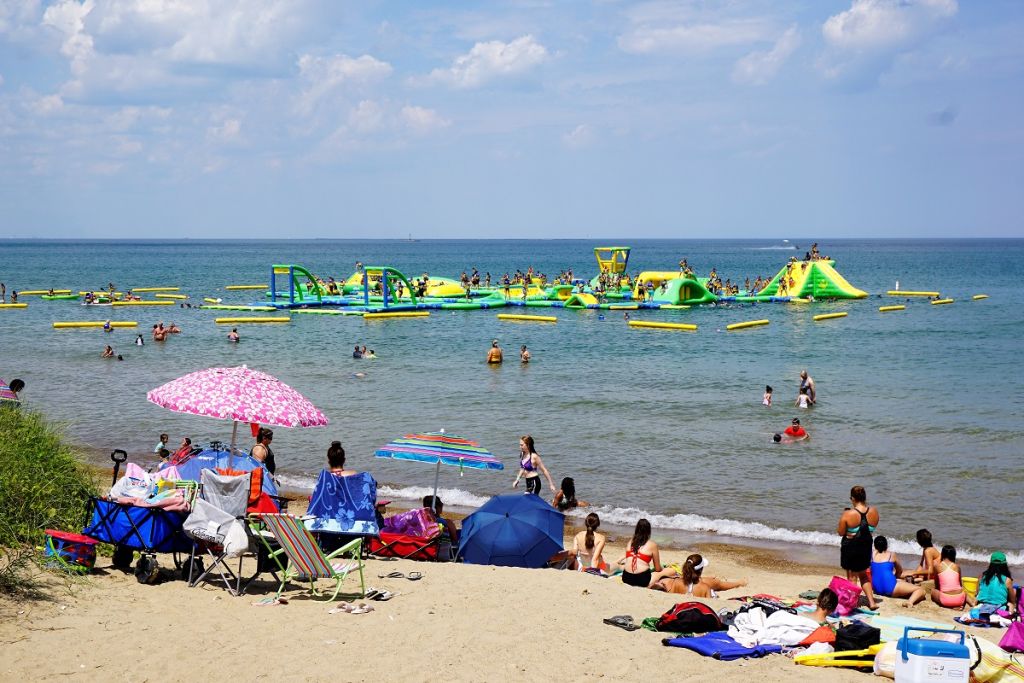 WhoaZone at Whihala Beach
Whihala Beach in Whiting offers a nature-based, active summer experience with a floating water park on Lake Michigan. Enjoy multiple play features and an obstacle course. Water rentals and merchandise are available too.
The Great Outdoors in the City
Who would have thought outdoor adventures await right in the city of South Bend? And best of all, you can opt for an invigorating experience on the spur of the moment without bringing any of your own equipment along.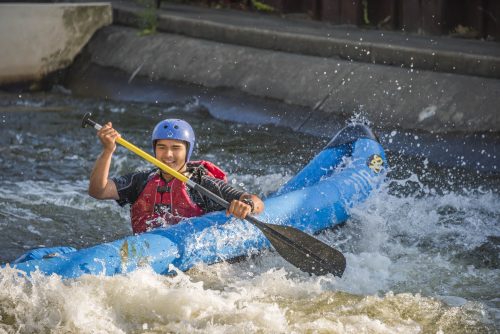 East Race Waterway
Steep drops… big splashes,,, twists, turns, and conquering the rapids! All the exhilaration of white water rafting is yours in downtown South Bend on the first manmade white water rafting course built in North America. Before that, the east race of the St. Joseph River generated power for local companies. Today it produces Class 2 Rapids that more than 400,000 people have ridden. Some have even been thrown into the water, but say it's all part of the fun. Walkways along the 1,900-foot course allow family and friends to cheer you on. The waterway is open Saturdays June through August.
The Gardens
In addition to the iconic Quilt Gardens you'll see all around Elkhart County in the spring and summer, Linton's Enchanted Gardens and other local Botanic Gardens are a must-see for any nature lover or hobby horticulturalist.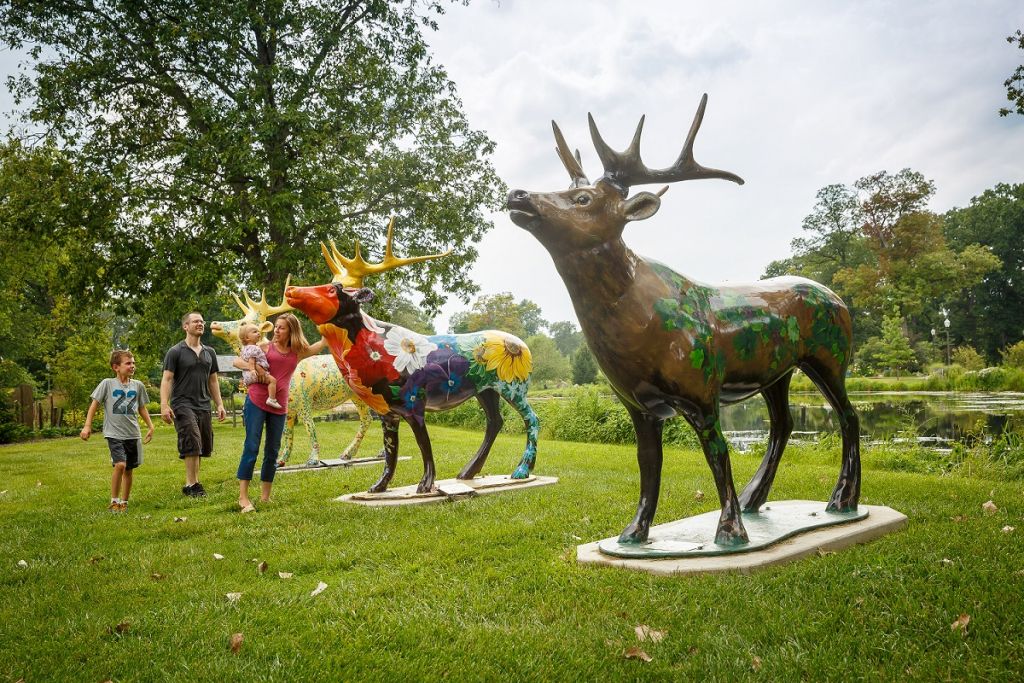 Gardens along the Heritage Trail
Minutes from downtown Elkhart's RiverWalk, surround yourself with breathtaking greenery at Wellfield Botanic Gardens, with over 20 unique gardens like the Japanese Garden, the Waterfall Garden, and the Adventure Path.     Follow the iconic Quilt Garden along the Heritage Trail,  winding its way through seven communities—Bristol, Elkhart, Goshen, Middlebury, Nappanee, Shipshewana, and Wakarusa—the Heritage Trail is a picturesque loop that takes you on an adventure through Elkhart County. In addition to the quilt gardens, discover charming country scenes, welcoming small towns, area attractions, and much more. Plus, a free audio guide (get it here) gives you unique insights and fun facts to enrich your experience.
Gardens near the Dunes
At Friendship Botanic Gardens in Michigan City a peaceful escape awaits walkers and bicyclists in forested woodlands, sprawling open spaces and cultivated gardens that spill over 100 acres.
Experts and enthusiasts from across the country come to marvel at the Brincka Cross Gardens in Michigan City.  Formerly a private residence, this unique home and garden display a wide variety of trees and plants.
Gabis Arboretum is a favored spot for birding fans, providing over 300 acres of dog-friendly trails, gardens, woodlands, and wetlands. Its acclaimed feature is a half-mile model railway garden showcasing waterfalls, intricate bridges, and a remarkable 14-foot elevation difference.
Continue your outdoor experience by finding outdoor dining that locals love in Indiana's Cool North.