From Sails (to Suds!) to Trails: An Outdoors Guide to Indiana's Cool North
Posted on October 29, 2018 by Dina Miller
Indiana's northern counties have many claims to fame – Notre Dame football, unique Amish communities, the Gateway Mile – but did you know that the region is also a hotbed for outdoor activities? From Dune Races to Urban Kayaking, the great outdoors is just as eclectic as each county (and we've included a few craft beer hotspots to keep you cool along the way!). Here's your adventure guide to the truly unique outdoor activities in Indiana's Cool North.
Indiana Dunes: Indiana Dunes National Park and Three Dunes Challenge Loop
One of the most iconic natural features in the Midwest, the Indiana Dunes National Park provides a precious natural haven for locals and visitors alike. With relaxing beaches, panoramic views and miles of hiking trails at your disposal, you'll have no trouble finding enough outdoor activities to fill up your family vacation. Looking for a challenge? Look no further than the Three Dunes Challenge Loop, a 1-½ mile path that requires a 550 foot elevation climb. Some may scoff at the short distance, but as anyone who has ever run on dunes before can attest, it's a challenge like no other. After all, sand-sprinting was difficult enough to be included in a Rocky training montage, so you know it's gotta be tough.   After this, you will be ready to visit Hunter's Brewing, a nanobrewery focused on hand-brewed beers ranging from the traditional to the creative.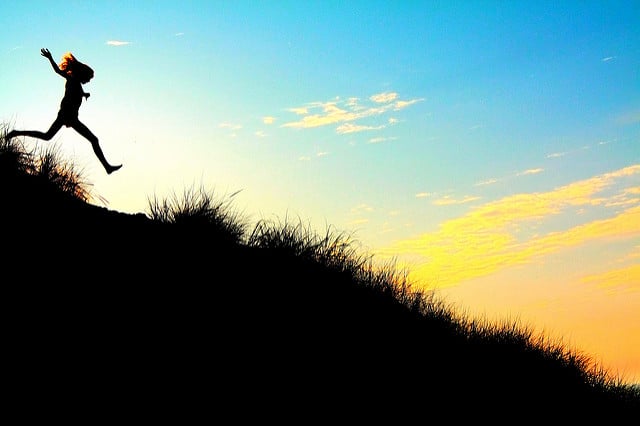 Photo: Drewski Mac
Michigan City Laporte:  Washington Park
When the summer months hit and you're dying to feel soft, white sand between your toes, look no further than the sunny shores of Lake Michigan. Washington Park Beach provides an idyllic stretch of sand and sun to enjoy the best months of year with friends and family.  If you feel the lapping waves beckoning, you can easily charter a boating trip, offering both sport fishing as well as an opportunity to just cruise around Lake Michigan. It's almost difficult to fathom the breathtaking size of Lake Michigan until you're out on the open water. Once you make your way back to shore, be sure to stick around for the sunset – it's truly one of the best around.  End the day at Shoreline Brewery, long standing brewpub, conveniently located across from Lighthouse Place Premium Outlets and walking distance from Washington Park.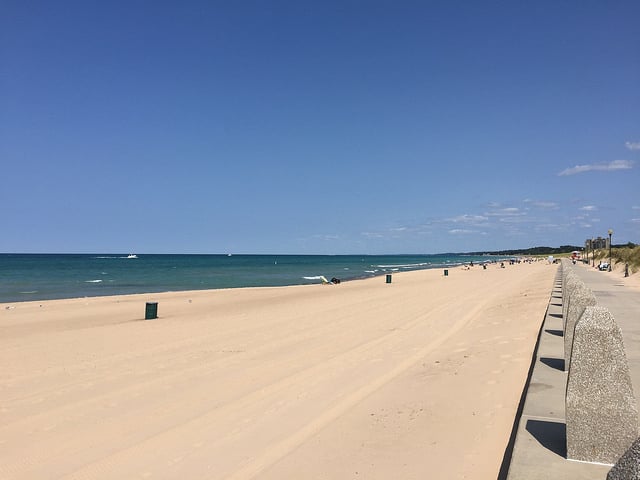 Photo: Tzuhsun Hsu
Elkhart County:  Quilt Gardens
If you're looking to slow down the pace for a moment but still enjoy nature's splendor, consider a stop in Elkhart County to visit the beautiful Quilt Gardens. These unique floral gardens are planted in patterns inspired by the famous quilts produced in the region. Between May 30th until October 1st, approximately one million fragrant flowers bloom to form the famous quilt patterns. After you've stopped to smell the flowers, consider a stop into Iechyd Da Brewing Company, a northern Indiana brewpub with tasty local beers and frequent live music.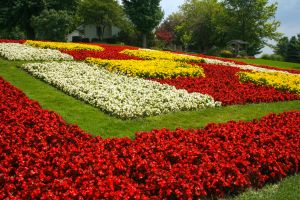 Photo: Indiana's Cool North
Shipshewana Lagrange County: Dutch Creek Animal Farm
The Dutch Creek Animal Farm is the ideal place to take a family friendly walk on the wild side.  Take a ride on a horse drawn safari style wagon to see the exotic and domestic animals up close while you feed and touch them.  There is also a petting zoo, where you can interact with farm animals and feed the monkeys!
Marshall County: Lake Maxinkuckee
In the heart of Culver you'll find Lake Maxinkuckee, a historic "kettle lake" scooped out by slow roaming glaciers over 15,000 years ago. Today the lake is a hotspot for year round outdoor adventures, most notably summertime canoeing, kayaking, fishing and swimming. Yet even in the dead of Winter you'll find Lake Maxinkuckee still humming with activity, with ice sculptures and igloo building events along the shores and for the brave of heart (and numb of skin), a polar plunge challenge.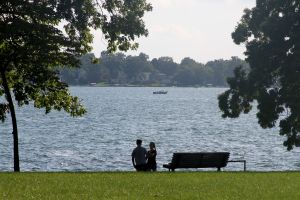 Photo: Visit Marshall County
South Bend Mishawaka:  East Race Rafting and South Bend Brew Werks
One of the most unique outdoor activities anywhere, this one of a kind white water rafting course will have you rocketing down the river at 500 cubic feet per second – in the middle of the city? Smack in the middle of South Bend you'll find the East Race Waterway, the very first artificial whitewater course in North America. The course will have you zooming down in approximately five heart pounding minutes, leaving you plenty of time to towel off and catch your breath at South Bend Brew Werks, where you can choose from twenty craft beers on tap. Go on, you've earned it!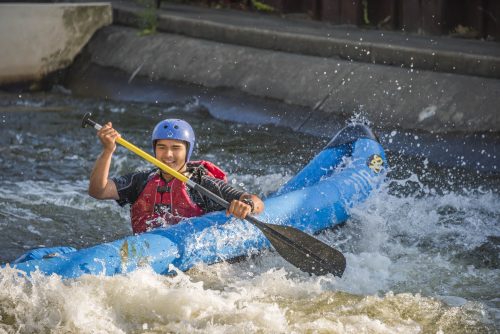 Photo: Visit South Bend
Kosciusko County: Syracuse-Wawasee Trail
In a true showing of neighborly love, the communities of Syracuse and Wawasee have come together to create an 11-mile trail system in the heart of Kosciusko County. Jointly named as the Syracuse-Wawasee Trial, the locals are very proud of this beautifully manicured trail, as they should be – it's maintained by volunteers dedicated to the trail's upkeep! This meandering trail system is a favorite for walkers, runners and bicyclists as they follow its winding path past both Syracuse Lake and Lake Wawasee providing a wonderful opportunity to explore both communities from a unique vantage.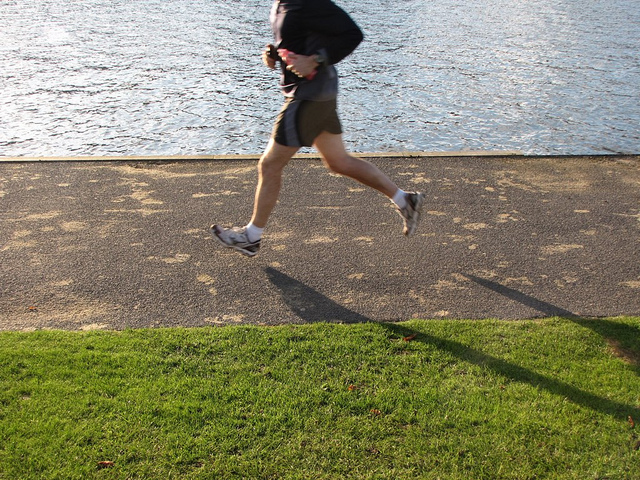 Photo: @Markheybo
Steuben County: Pokagon State Park
There is something to do anytime of the year at Pokagon State Park, home to Indiana's only refrigerated toboggan slide.  Other winter sports include  cross-country ski rental, sledding, and ice fishing.  If you prefer being outdoors in warmer weather, there are hiking trails, beaches, boat and bike rentals, horse back riding, and a nature center.  The name Pokagon acknowledges the rich Native American heritage of the state and region.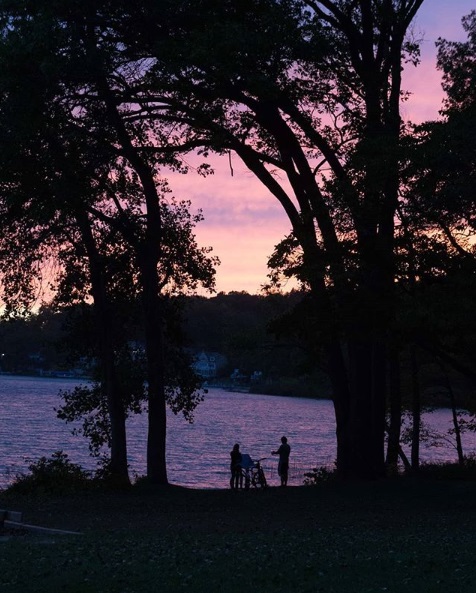 Photo: avianwatcher78
Lake County: Whiting Lakefront Park
Whiting Lakefront Park is perfect for strolling along the waterfront — you might even be able to see the Chicago skyline.  There are 15 acres of play areas, including tennis courts, a baseball diamond and fishing pier.  Or if you prefer relaxing outdoors, sit by the fish pond and waterfall.  Bring your lunch and enjoy one of the picnic areas.  Before leaving the area, visit 3 Floyds; eat in at one of the oldest, internationally famous brewpubs around, or take some beer to go!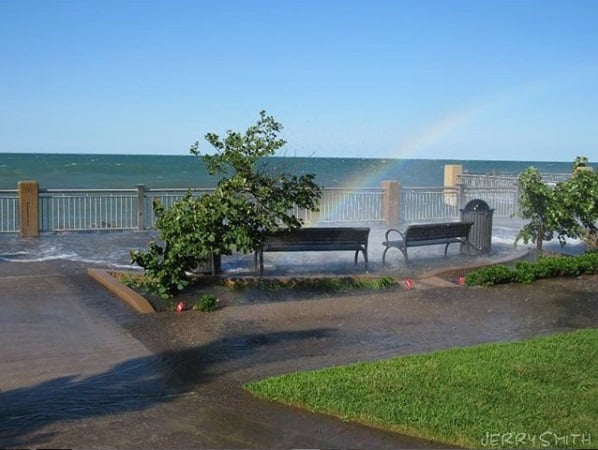 Photo: jerrysmith3149
There is so much to do in Indiana's Cool North; find 25 more outdoor activities here  and other breweries  here.